New AllCast GCM-900 Permanent Mold Gravity Die Casting Machine #4540
Specifications
Metric show Imperial
Imperial show Metric
Die Close

Stationary Platen (Depth)

899.2 mm
35.4 inch

stationary platen (Width)

899.2 mm
35.4 inch
Injection

Daylight / Ram up (Max)

1041.4 mm
41 inch

Daylight / Shut Height (Min)

393.7 mm
15.5 inch

Die Stoke

647.7 mm
25.5 inch
Ejection

Ejection Force:

16987 kg
37450 lbs
General
CONTROL
Omron Color HMI touch screen
Omron programmable logic controller (PLC)
AVAILABILITY AND TERMS
Machine is ready for inspection and/or shipping
Technical data without obligation – subject to prior sale
Specifications and location are subject to change without notice
This Gravity Casting Machine model GCM-900 is manufactured by ALLCAST.
This machine reference #4540 Gravity Casting Machine is currently located at our Beta Die Casting Equipment warehouse and is ready for inspection and shipping.
Product Overview
Gravity Die Casting Machine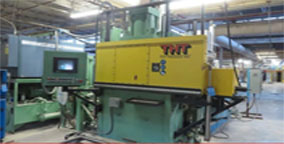 Avail upto 50% Discount
Please contact us Today to Avail upto 50% Discount on Machines.
Get Discount