New MetalPress 35 Ton Trim Press Die Casting #4585
Specifications
Metric show Imperial
Imperial show Metric

Pressing Force

31.8 tons
35 tons

Distance Between Tie Bars (D x W)

558.8 x 965.2 mm
22 x 38 inch

Platen (D x W)

23215.6 x 30327.6 mm
914 x 1194 inch

Tie Bar Diameter

88.9 mm
3.5 inch

Stroke

457.2 mm
18 inch

Daylight / Shut Height (Min)

812.8 mm
32 inch

Daylight / Shut Height (Max)

355.6 mm
14 inch
General

Motor Power

11.3 kW
15 hp

Machine Weight (approx):

4989.5 kg
11000 lbs

Size (L x W x H):

2.2 x 1.6 x 4.2 m
7.2 x 5.4 x 13.7 ft
ADDITIONAL SPECIFICATIONS
2 Core Circuits
Air blast valve with timer and air nozzles
Hydraulic Center Ejection
Interlocked hinged guards on 3 sides
Photoelectric Light Curtain CAT4
Portable Operator Console
Resettable Counter
Safety Ratchet Bar
Zero Force Buttons
CONTROL
Omron Color HMI touch screen
Omron PLC
AVAILABILITY AND TERMS
Machine is ready for inspection and/or shipping
Technical data without obligation – subject to prior sale
Specifications and location are subject to change without notice
New MetalPress 35 Ton Trim Press Die Casting
This Trim Press 35 Ton is manufactured by Metal Press. This Trimming Press machine reference #4585 Trim Press is currently located at our Canada Beta Die Casting Equipment warehouse and is ready for inspection and shipping.
The Importance of a Used Four Post Hydraulic Trim Press:
It is a very common hydraulic press in the automotive world and fundamentally it can cause great force, with only a little force. It is made up of one hydraulic cylinder that moves up and down providing tremendous flexibility and accuracy when trimming a casting, which is responsible for increasing power and maintaining maximum productivity. It is well known in the Die Casting business and automotive sector, the function of the trim press or trimming press is very basic. Its main objective is to multiply forces, and this is used to perfectly cut and trim die casting parts or other aluminum castings. They are machines that each day have more value according to their peak of use since they can be used for many industrial tasks.
Quality Factory Equipment at a Fraction of the Cost of New
Beta Die Casting Equipment is the largest buyer and reseller of used trim presses and trimming presses, used die casting machines, and used die casting machinery in the world. We supply the best used four post hydraulic trim presses, used trim presses, and used trimming presses models with either Allen Bradley plc or Siemens plc for the greatest adaptability. We offer tremendous esteem for the money and allow you more standard highlights than any other company. Why pay way more in case you are doing not ought to?
Beta Die Casting Equipment also buys and sells industrial machines and automation equipment such as Die Cast Press, High-Pressure Die Casting Machines, Cold Chamber Die Casting machines, Hot Chamber Die Casting Machines, Trim Press, Melting furnaces, Holding furnaces, Stack Melting Furnaces, Crucible Furnaces, Die Casting Ladles, Extractors, Multi-slide machines, Techmire Machines, Oil Temperature Controllers, Shot blast machines, Trimming Press, Die holders and other auxiliary equipment.
Used Trim Presses is our Speciality, Industrial Equipment is our Expertise
We are a diverse sort of fabricating company. We offer a comprehensive line of items and able to work with you to customize them to your particular needs. We are more than your regular provider - we are your accomplice in victory.
Our clients rely on us for their used trimming presses, used trim presses, used four-post hydraulic trim press, and used die casting machinery needs, but we also offer used industrial and automation equipment such as auto ladles, reciprocating die sprayers, and extractors (dedicated and robotic). Brands we stock include ABB, Kuka, Fanuc, Kuka and Motoman robot, Toshiba, Rimrock, Snair, Advance Products. We also carry all types of auxiliary equipment such die temperature control units (hot oil units) from Regoplas, Sterlco, Mokon, QPC, Advance, Robamat and Advantage. We buy and sell X-ray machines, spectrometers, shot blast machines, CNC machines, and four-post hydraulic trim presses from Robopres, Tecnopres, Reis, Diesse Presse, Brescia Presse, Metal Mechanics, Hannifin, KR Wilson, Corsteel, and Kard.
Product Overview
Used Trim Press Die Casting Machine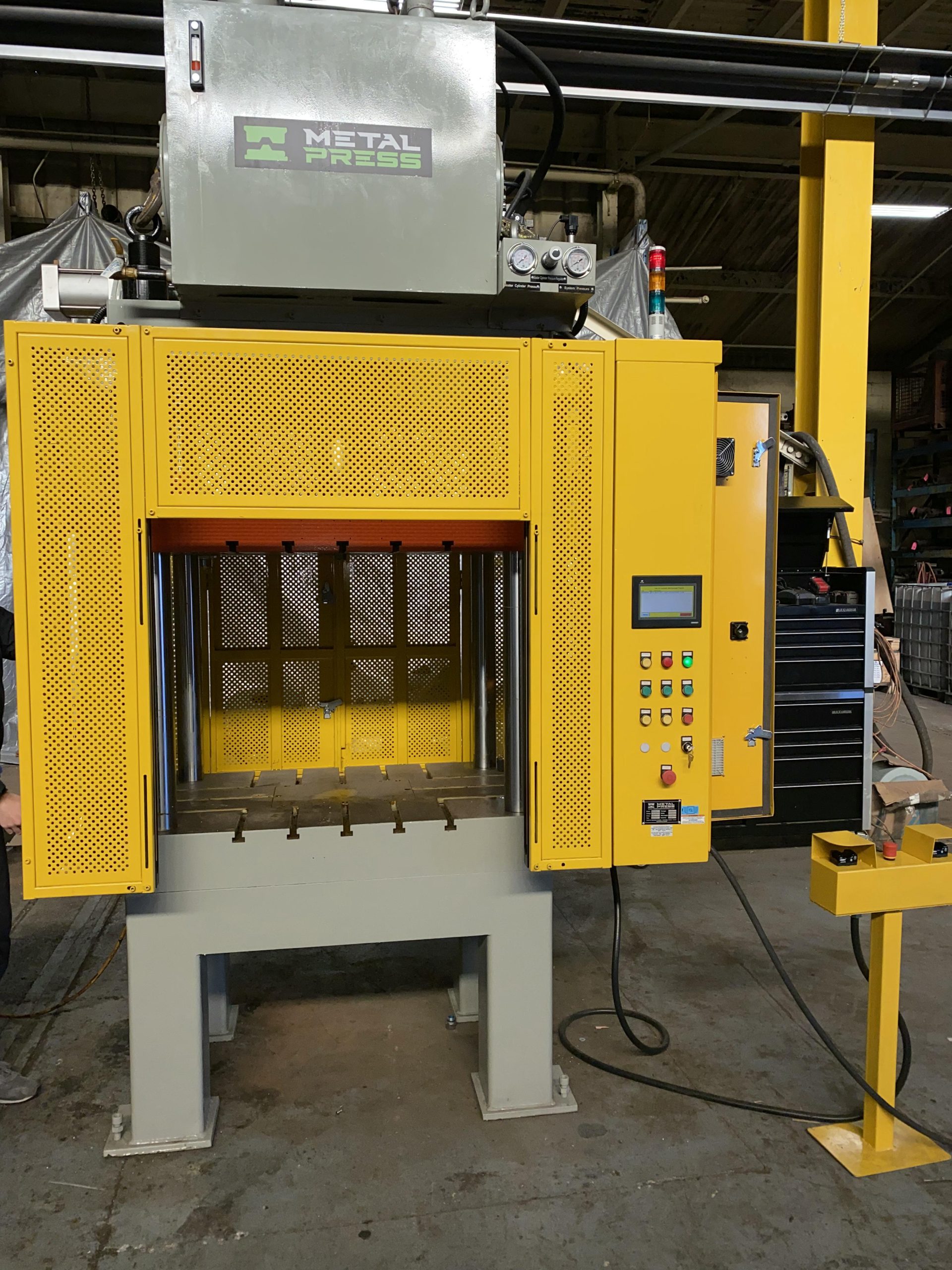 New MetalPress 35 Ton Trim Press Die Casting #4585
In Stock and Ready for Your Inspection
Request Quote