New MetalPress Hot Oil Temperature Control Unit #4719
Specifications
Metric show Imperial
Imperial show Metric

Heater (per zone)

32 kW
32 kW

Temperature (max)

298.9 C
570 F

Temperature (min)

60 C
140 F

Pump Flow (per zone)

100.3 Litres
26.5 gallon
General

Motor Size

1.5 kW
2 hp
CONTROL
Omron Color HMI touch screen
Omron PLC
Auto exhaust function
Dual Zone
Durable flanged ball valves
Heating and Cooling
Multi-stage adjustable heating
Protection devices to ensure stable operation
Sealed system which does not allow oil to oxidize
Solid and robust construction
Hot Oil Dual Zone
Heating and cooling for maximum flexibility
AVAILABILITY AND TERMS
The machine is ready for inspection and/or shipping
Technical data without obligation – subject to prior sale
Specifications and location are subject to change without notice
New MetalPress Hot Oil Temperature Control Units
DESCRIPTION: Made in 2020 Brand: MetalPress Machinery, Model: THC-D-24, Heat Transfer Fluid: Hot Oil Number of Zones:2, Heater (per zone):24 KW, Temperature (max):570 ℉, 26.5 gal/min (100 liter/min), Reference No.: 4719, Status: AVAILABLE. SPECIFICATIONS: Heater (per zone) 24 kW, Temperature (max) 570 F, Temperature (min) 140 F, Pump Flow (per zone) 26.6 gallon, CONTROL: Omron Color HMI touch screen and Omron PLC.
This Hot Oil Temperature controller unit is manufactured by MetalPress Machinery. This system features the latest control technology a Hot Oil Temperature Controller unit made by MetalPress Machinery reference #4719 is currently located at our Canada Beta Die Casting Equipment warehouse and is ready for inspection and shipping.
You can watch this machine video: Click Here to View This Hot Oil Temperature Control Unit
For a very long time, Beta Die Casting Equipment has set the norm for top-notch used circling fluid temperature control units and heat transfer oil systems. Through the advancement of used hot oil units and used hot water units throughout the industry, we've made exceptional arrangements to have these used units available. Beta Die Casting has reliably shown its capacity to anticipate the developing requirements of clients in plastics, bundling, changing over, composites, food handling, drug, compound handling, elastic, printing, general handling, and a lot more ventures. Our inventory is focused on having the largest in-stock used oil transfer system, portable and central chillers, pump tanks, cooling towers, blown film coolers, and cold climate coolers.
Used Hot Oil Temperature Control Unit is our Speciality, Industrial Equipment is our Expertise: Our clients rely on us for their Regloplas heat transfer oil systems and used die casting machinery needs, but we also offer used industrial and automation equipment such as auto ladles, reciprocating die sprayers, and extractors (dedicated and robotic). Brands we stock include ABB, Kuka, Fanuc, Kuka and Motoman robot, Toshiba, Rimrock, Snair, and Advance Products. We also carry all types of auxiliary equipment such as die temperature control units (hot oil units) from Regoplas, Sterlco, Mokon, QPC, Advance, Robamat, Advantage, Accutemp Equipment, Fulton.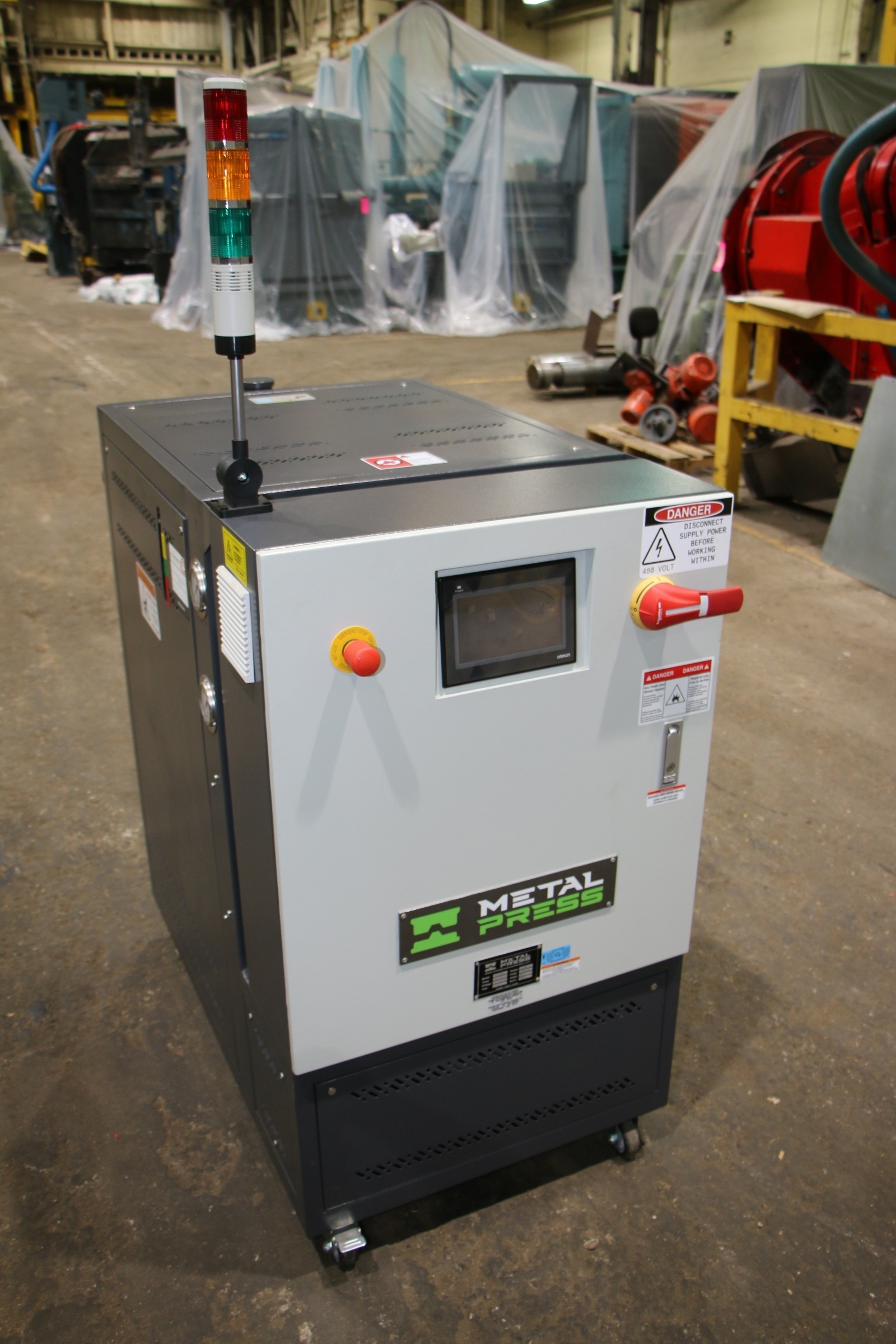 Hot Oil Temperature Control Units
Made In 2020 Brand: MetalPress Machinery, Model: THC-D-24. In Stock and ready for your inspection.
Order Now