Used Fanuc R-2000iA Robot #4453
Specifications
Metric show Imperial
Imperial show Metric

Axis

6
6

Reach

2850 m
112204.8 inch

Payload (aluminum)

155.1 kg
342 lbs

Repeatability

±4.064 mm
±0.16 inch
General

Machine Weight (approx):

1599.8 kg
3527 lbs

Size (L x W x H):

208.3 x 167.6 mm
8.2 x 6.6 x 6.6 inch

Rotation

360 degrees
360 degrees
ADDITIONAL SPECIFICATIONS
Motion Speed: Axis 1 :  90º/s
Motion Speed: Axis 2 :  100º/s
Motion Speed: Axis 3 :  75º/s
Motion Speed: Axis 4 :  140º/s
Motion Speed: Axis 5 :  110º/s
Motion Speed: Axis 6 :  140º/s
Motion Range: Axis 1 :  ±180°
Motion Range: Axis 2 :  +72° - 70°
Motion Range: Axis 3 :  +30° - 105°
Motion Range: Axis 4 :  ±300°
Motion Range: Axis 5 :  ±130°
Motion Range: Axis 6 :  ±360°
Robot Applications: Spot welding, Press tending, Material handling, Machine tending and Palletizing
CONTROL
R-J3iB
Control Cabinet
High motion speeds
High payload capacity
Ideal for automotive spot welding and material handling
Large work envelope
AVAILABILITY AND TERMS
Machine is ready for inspection and/or shipping
Technical data without obligation – subject to prior sale
Specifications and location are subject to change without notice
This Robot model R-2000iA is manufactured by Fanuc. Features include:
Control Cabinet, High motion speeds, High payload capacity, Ideal for automotive spot welding and material handling, Large work envelope.
This machine reference #4453 Robot is currently located at our Beta Die Casting Equipment warehouse and is ready for inspection and shipping.
Product Overview
Industrial Robots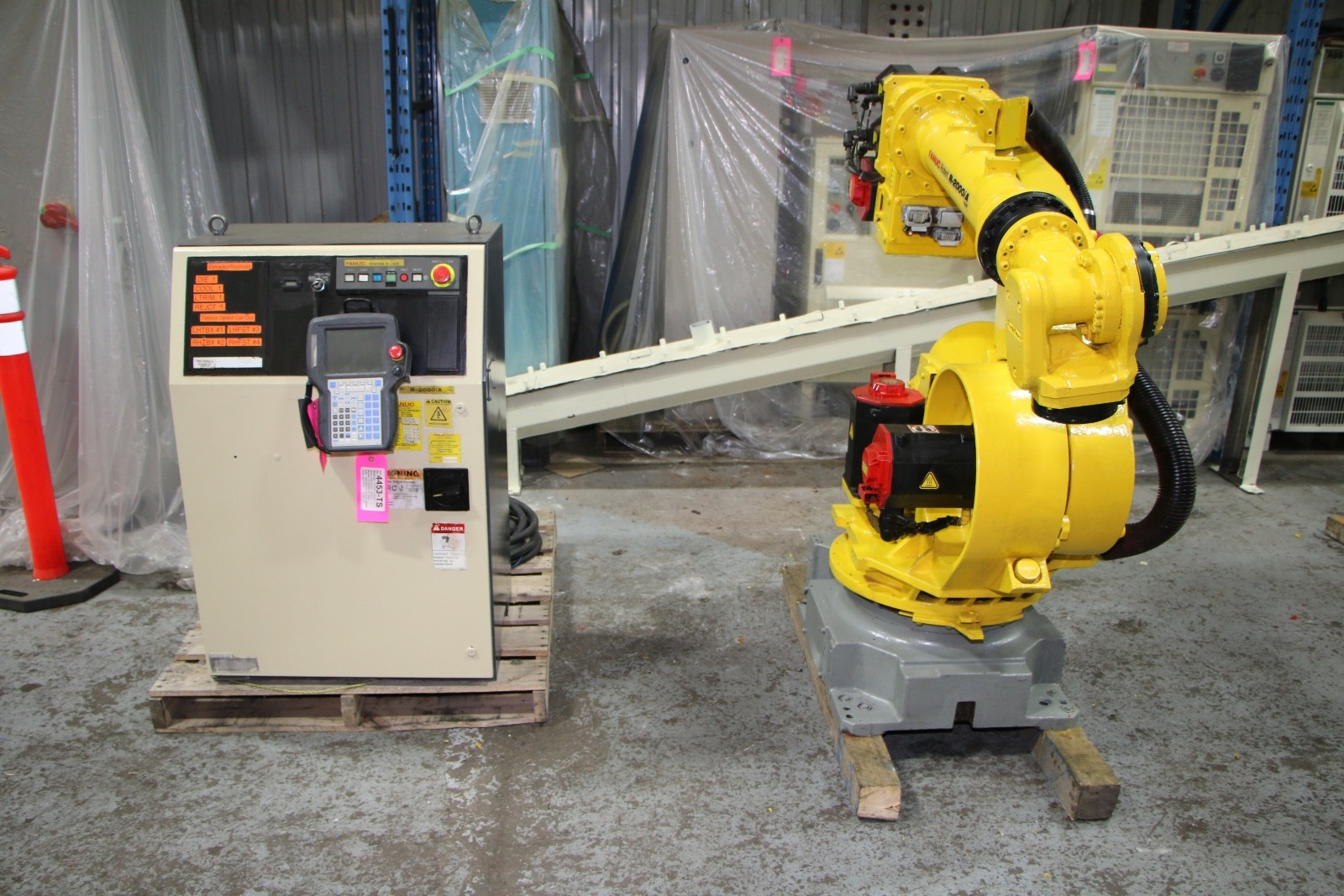 Used Fanuc R-2000iA Robot #4453
Request Quote