Used Techmire 44Z (4 x 4) Multi-Slide Die Casting Machine #4767
Specifications
Metric show Imperial
Imperial show Metric
Die Close

Die Size:

101.6 x 101.6 mm
4 x 4 inch

Die Opening (Max):

101.6 mm
4 inch
Injection

Injection Capacity

510.3 gram
18 oz

Injection Stroke

50.8 mm
2 inch

Shot Weight

198.4 gram
7 oz
Hydraulics

Line Pressure

68.9 bar
1000 psi

Tank Capacity

49.2 Litres
13 Gallons
General

Machine Weight (approx)

1814.4 kg
4000 lbs
Furnace
AVAILABILITY AND TERMS
Machine is ready for inspection and/or shipping
Technical data without obligation – subject to prior sale
Specifications and location are subject to change without notice
Used Techmire 44Z (4 x 4) Multi-Slide Die Casting Machine
This Techmire Multi-Slide machine is manufactured by Techmire. This Techmire Multi-Slide reference #4767 is currently located at our Canada Beta Die Casting Equipment warehouse and is ready for inspection and shipping. Beta Die Casting sells used or secondhand Multi-Slide and Four Slide (4 slide) hot chamber die casting machines and equipment for the Zinc, Zamak, and Magnesium multi-slide die casting processes. Major manufacturers include Techmire, Dynacast, Titus, T-Sok Angelcast, Triad Speedcaster, and others.
Beta Die Casting Equipment is the largest buyer and reseller of used die casting machines and used die casting machinery in the world. Beta Die Casting Equipment also buys and sells industrial machines and automation equipment such as Die Cast Press, High Pressure Die Casting Machines, Cold Chamber Die Casting machines, Hot Chamber Die Casting Machines, Trim Press, Melting furnaces, Holding furnaces, Stack Melting Furnaces, Crucible Furnaces, Die Casting Ladles, Extractors, Multi-slide machines, Techmire Machines, Oil Temperature Controllers, Shot blast machines, Trimming Press, Die holders and other auxiliary equipment.
We sell all types of equipment such as cold chamber die casting and hot chamber die casting machines. We also offer aluminum die casting machinery, zinc high pressure die casting machinery, trim presses,  trimming presses, furnaces, automation, finishing, inspection, and machining equipment. We stock European die casting machines made by Buhler, Idra, Italpresse, Frech, Weingarten, Colosio, Upre, Agrati, and Triulzi. From Asia, we stock die casting machines such as Toshiba, UBE, Toyo, Zitai, BSK, KDK, Producer, and LK. From the United States, we stock die casting machines such as Prince, HPM, BuhlerPrince, Lester, B&T, THT, National, Birch, and Kux. We also offer Canadian machines such as Techmire, Dynacast, Triad, and Fisher cast.
Product Overview
Used Multi-slide Die Casting Machine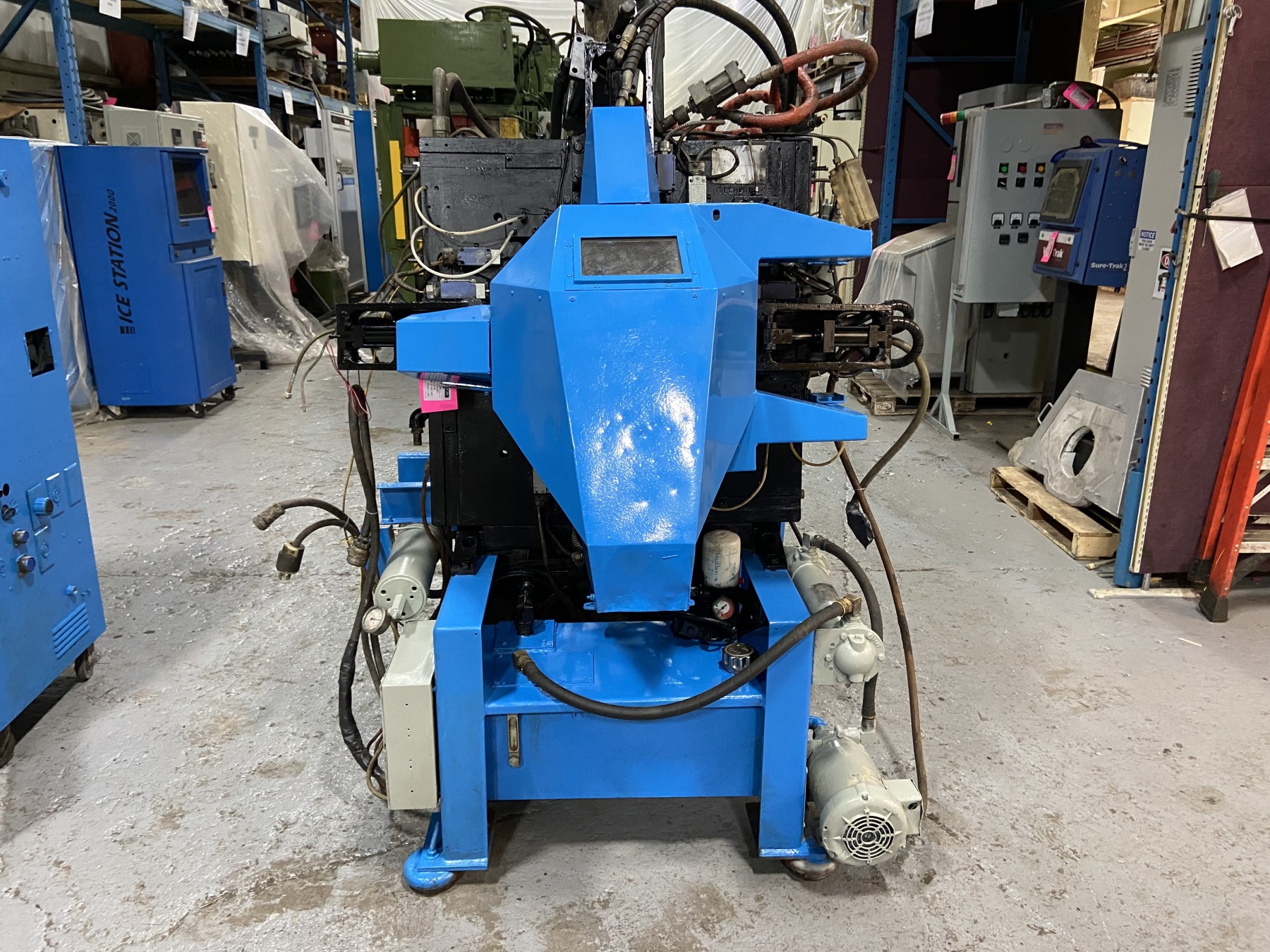 Used Techmire 44Z (4 x 4) Multi-Slide Die Casting Machine #4767
Techmire Multi-Slide Die Casting Machine
For Sale